Examples of our Google Data Studio Consultancy Work:
Google Data Studio Consultancy Services - Introduction
A Google Data Studio consultancy can give you the skills and experience you need to turbo charge your reporting efforts. Training up and retaining staff in the dashboarding field is not easy and mistakes can be costly. Let us partner with your company to get things moving in the right direction - including training up your internal teams!

Tribalism is one of the most innovative Google Data Studio consultanices in Australia. With offices in Melbourne and Sydney our background is steeped in mathematics and the web.
Google Data Studio is a free Data visualization tool that connects natively to the Google stack. This includes a very large group of google tools, eg Search Console, Google Analytics, Google Adwords, BigQery etc see image below. Data studio is our preferred data visualization tool – for most reports (except very large ones).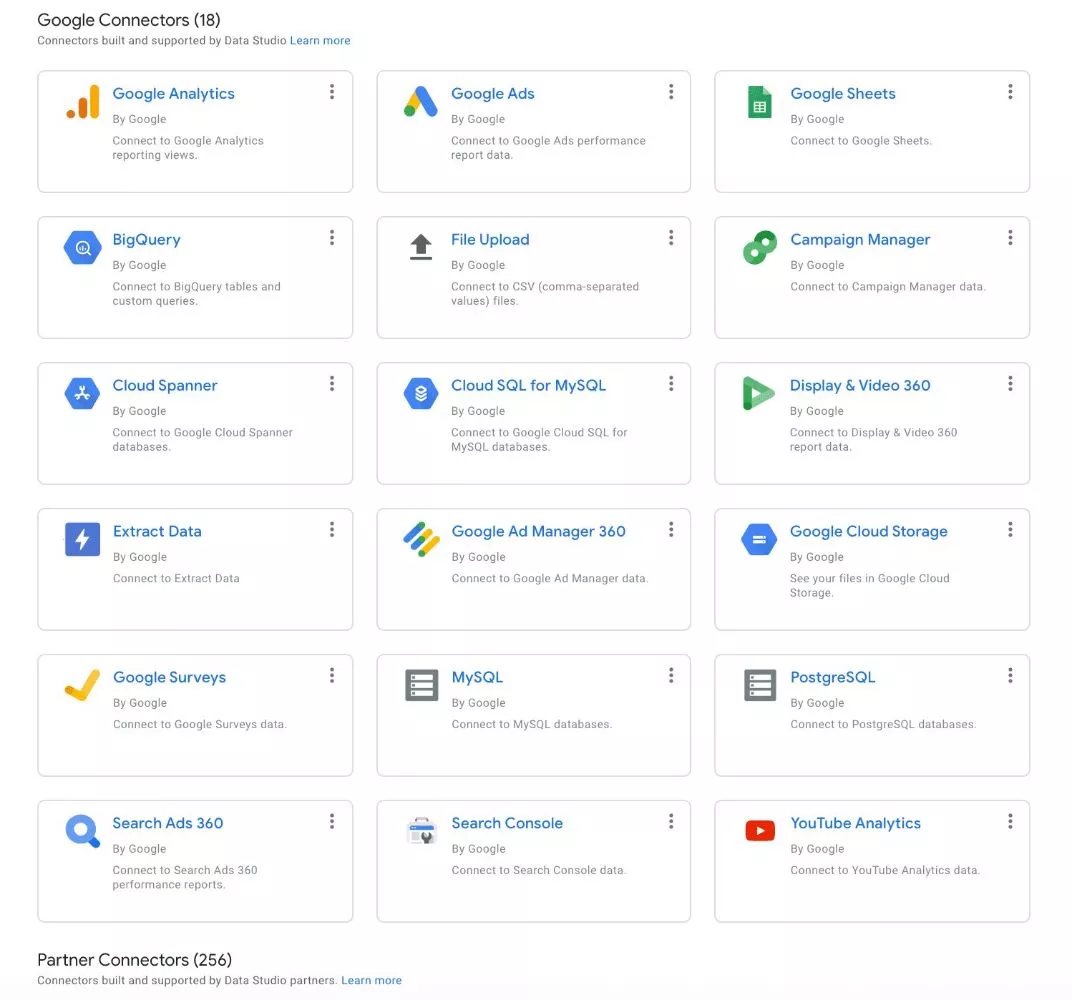 The Native Data Studio Connectors and 256! (as at Sep 2020) partner connectors
It works particularly well connecting to the Google stack. We are one of the few Melbourne & Sydney based consultancies/agencies working across the cutting edge of Data Studio. In the connector image below you will see there are 18 native google connectors but a whopping 256 partner connectors (as of September 2020). There is an entire community of Data Studio developers developing various connectors to the platform which are really taking out of the "free tool" realm into enterprise worthy reporting tool.
Note: we also work with various other data visualization tools as well including Tableau, Power BI and Infogram.
Work with us!
Data is hard to understand for anyone if its just presented in tables or text files. If you are interested in develeloping some awesome dashboards but lacking a little expertise, we can help!

For as little as $2000+gst we can have one of our awesome dashboard consultants work with you to turn out an awesome and useful data studio dashboard connected to your particular data assets, in no time. 😀

Get in touch via the form below.